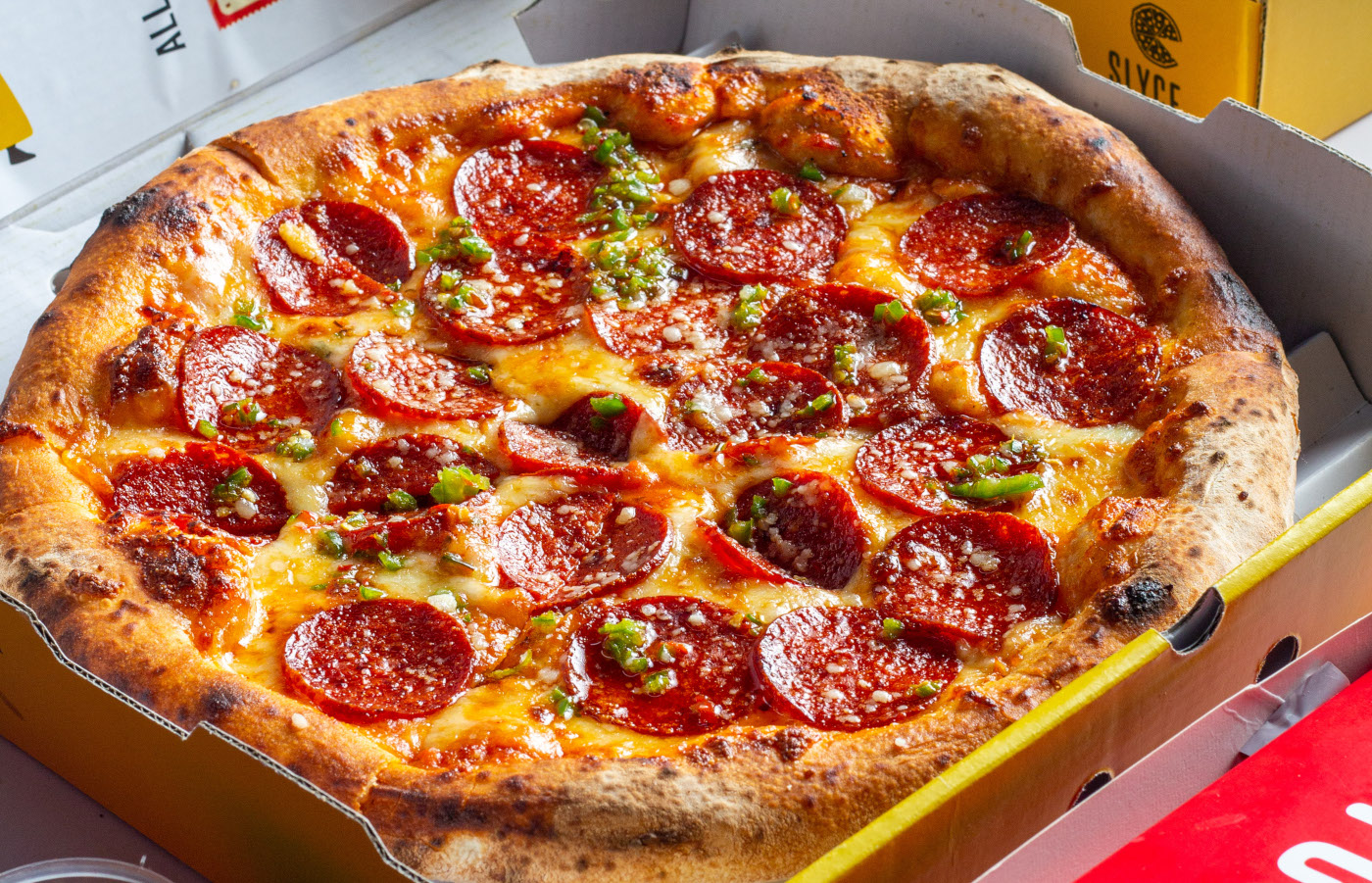 Dear Pizza Lovers,
When was the last time you tasted a great pizza?
If you think you've been there and dough that; wait till you taste the authentic, real, OG Pizza!
Slyce Pizza – Introducing breakthrough pizzas from the makers of "Louis Burger". Pizza makes the world go round, literally and figuratively, the team at Massive Restaurants has conceptualized, researched and worked on these masterpieces for over 2 years to perfect the craft of making it your go to Pizza.
The ingredients chosen are from far and wide, locally and globally giving you the perfect harmony of flavours and ensuring a party for your taste buds each time you bite into a Slyce pizza.
The boxes are vented and are specially designed to offer a restaurant level pizza experience at home. The ovens have specially imported tiles all the way from Italy to ensure the perfect undercarriage to our pizzas.
Each Slyce pizza has a secret blend of three different cheeses in a very specific ratio creating a unique flavour profile. Pizza lovers can choose from 2 special crust options – Ultra Thin Crust and the Signature Slyce crust! Available in small, medium and large options. The dough is made with Caputo 00 flour, hand tossed and proofed for 24 hours to make the pizza experience more exciting. To make every pizza bespoke to your palate, the brand has curated a range of 6 exclusive complimentary condiments served along with each and every Slyce pizza – Pepperoncini, Hot Red Paprika, Toum Sauce, Jalapeno Mayo, Oregano and Chilli Flakes. The taste? Unforgettable.
The most important ingredient, though, is passion.
We have spent two years working on this brand and it's been a terrific creative journey for us. The simple philosophy of Slyce is to provide a gourmet pizza experience to your home. Everything has been crafted with delivery and travel in mind from the dough to the custom cheese blend to the specially vented packaging. Every ingredient has been painstakingly selected after months of detailed trials and travel analysis. The result of all of this is, I believe, a no-compromise pizza served hot and fresh to you in the comfort of your home with quality that makes you feel you are having it in a gourmet restaurant.
Our ovens are beauties. They take a long time to make and have specially imported tiles all the way from Italy to ensure the perfect undercarriage to our pizzas.
We love pizzas and that has been the driving force behind this brand'' says Zorawar Kalra, Founder & Managing Director, Massive Restaurants. Pvt. Ltd.
Current Presence Mumbai and available on Swiggy and Zomato